I'm baaack.
And this time it's part TWO of Book Bloggers' Most Anticipated Books of 2019. I am super excited about this post but I'm so sad that it's over. I've enjoyed this experience immensely and I hope the bloggers that have been so kind have also too. I also want to thank you, readers, for being so supportive! It means a lot to all of us!
Ok, I'll stop talking and let's get on with this!
---
I'm screaming it from the rooftops: The Grand Dark by Richard Kadrey! I have long been a fan of Kadrey's work: from Lucifer to Sandman slim. Kadrey knows how to write that gritty reluctant protagonist. One that doesn't have a heart of gold or good intentions, but you still root for them to win. Now readers get a chance to read a whole new sort of adventure. One in which we have the dark grittiness of previous works, but is set against a fantastical future city fresh from war and chaos. There haven't been any reviews yet, this isn't out till June, but if this book is anything like previous books, Richard is going to kill it in this standalone fantasy. 
Bring on the asshole reluctant protagonist, and I am there! Here's the synopsis for those who are interested:
From the bestselling author of the Sandman Slim series, a lush, dark, stand-alone fantasy built off the insurgent tradition of China Mieville and M. John Harrison—a subversive tale that immerses us in a world where the extremes of bleakness and beauty exist together in dangerous harmony in a city on the edge of civility and chaos.

The Great War is over. The city of Lower Proszawa celebrates the peace with a decadence and carefree spirit as intense as the war's horrifying despair. But this newfound hedonism—drugs and sex and endless parties—distracts from strange realities of everyday life: Intelligent automata taking jobs. Genetically engineered creatures that serve as pets and beasts of war. A theater where gruesome murders happen twice a day. And a new plague that even the ceaseless euphoria can't mask.

Unlike others who live strictly for fun, Largo is an addict with ambitions. A bike messenger who grew up in the slums, he knows the city's streets and its secrets intimately. His life seems set. He has a beautiful girlfriend, drugs, a chance at a promotion—and maybe, an opportunity for complete transformation: a contact among the elite who will set him on the course to lift himself up out of the streets.

But dreams can be a dangerous thing in a city whose mood is turning dark and inward. Others have a vision of life very different from Largo's, and they will use any methods to secure control. And in behind it all, beyond the frivolity and chaos, the threat of new war always looms
Twitter | Blog | Instagram | Goodreads
---
It's been weeks since the news of Renee Ahdieh's newest soon-to-be-released duology came out. And still my excitement for it have not lessened. Nope, not one bit. The Beautiful is a "sumptuous, sultry and romantic new series set in 19th century New Orleans where vampires hide in plain sight." Or at least that's what Goodreads says. And I have no doubt it's true.
Uhm, Vampires in New Orleans? Say no more. I LOVE it already! And if anyone can bring back vampires and give it the same recognition and hype as Twilight did, it's gonna be Renee Ahdieh. Her debut, The Wrath and the Dawn, is one of my most loved book ever. It's romantic, thrilling, and very addictive. Not to mention enemies-to-lovers trope is EVERYTHING to me. And Ahdieh does it so well!  The sequel to Shazi and Khalid's story is just as mesmerizing. The Rose and the Dagger was a perfect blend of intrigue, deceit and swoon. You can check out my full review here. (I almost lost my damn mind over the book.) And then her next duology came out. This time, a Mulan retelling set in feudal Japan. What. Could. Be. Better. Than. That. Granted, I didn't love it as much as The Wrath and the Dawn (nothing will ever come close to my love for Shazi and Khalid), but it was no less brilliant. It was an amazing experience too because I got to read it in advance. My review can be found here. The finale to this duology, Smoke in the Sun, found me a new ship. Mariko and Okami are totally ship-worthy but Yumi and Kenshin? Now that's one ship I would very much sell my soul to see.
Renee Ahdieh has never disappointed me. And I have a feeling The Beautiful would be her best one yet. Gaah! I'm super excited to read this! (Who's with me?!). Here's the synopsis:
In 1872, New Orleans is a city ruled by the dead. But to seventeen-year-old Celine Rousseau, New Orleans provides her a refuge after she's forced to flee her life as a dressmaker in Paris. Taken in by the sisters of the Ursuline convent along with six other girls, Celine quickly becomes enamored with the vibrant city from the music to the food to the soirées and—especially—to the danger. She soon becomes embroiled in the city's glitzy underworld, known as Le Cour des Lions, after catching the eye of the group's leader, the enigmatic Sébastien Saint Germain. When the body of one of the girls from the convent is found in the lair of Le Cour des Lions, Celine battles her attraction to him and suspicions about Sébastien's guilt along with the shame of her own horrible secret.

When more bodies are discovered, each crime more gruesome than the last, Celine and New Orleans become gripped by the terror of a serial killer on the loose—one Celine is sure has set her in his sights . . . and who may even be the young man who has stolen her heart. As the murders continue to go unsolved, Celine takes matters into her own hands and soon uncovers something even more shocking: an age-old feud from the darkest creatures of the underworld reveals a truth about Celine she always suspected simmered just beneath the surface.
---
Descendant of the Crane by Joan He has to be my most anticipated release of 2019. Not only have I come to appreciate Joan through her presence on Twitter, I have been fortunate enough to read a copy of this book ahead of time. And I can still emphatically and one hundred percent recommend it! The writing in Descendant of the Crane is lush, imaginative, and beautiful. As it was pitched to me as an Asian Game of Thrones style fantasy, it does not fail to deliver upon this lofty claim! The characters make you feel more than I ever felt for Game of Thrones characters, sorry to all the intense fans out there (love them harder for me). Tears were shed and shrieks were uttered. This is a book that will leave you in awe!
Representation wise, I love being able to support Asian Writers and so I am excited not only for the book itself, but for the journey of debut author Joan He. She is certainly an author you should be on the lookout for as this book is gorgeous inside and out. 2019 is the year I want to seek out more books that represent me, more diverse worlds, stories, and authors and I cannot think of a more emblematic book than Descendant of the Crane!
Not to mention that I am on the street team and I can already tell you that there is some gorgeous pre-order swag coming at you, not to mention character cards that Joan herself has teased on Twitter! And if you add it to Goodreads we get to see even more Character Card reveals!
In summary, what better recommendation can I give to a book that was already my number one anticipated book before I even read it and still after reading! Please join me in my hype and excitement over a book that I truly love to the bottom of my heart.
Find Descendant of the Crane on Goodreads, Amazon, Indiebound & The Book Depository.
About Lili: My name is Lili and I am a scholar at heart, obsessed with SFF and always carrying a book wherever I go (including to the top of a dormant volcano and mountain for Instagram photos). I am a Chinese American adoptee.
I did my Masters and BA in Women's Studies and English Literature. I lived in Germany for three years, worked in publishing for a year, and am back in Germany. I am obsessed with diversity and use USOM to champion books I feel deserve more praise and attention. 2019 is the year I want to highlight more diverse voices, but also special attention to Asian (American) authors and stories with adoption.
You can find me on my blog (for all the book reviews you could ever want – and more), Twitter (where I ramble a ton), Instagram (where you can always find books in the outdoors), Goodreads (where you can see mini reviews before the blog), & Facebook (where I make sure to let you know about new posts)!
---
I have thought about my number one anticipated book release long and hard. Trust me when I say IT WAS PAINFUL. OKAY. So, here's the thing ..I LOVED reading The Kiss Quotient immensely. So, I added The Bride Test to my TBR immediately after I finished reading The Kiss Quotient. I love reading romance novels but I read very few which have such representation as I saw in Helen Hoang's debut The Kiss Quotient.
The Bride Test has a hero who is autistic, a heroine who is like a mail order bride who arrives in America from Vietnam with dreams in her eyes. Here's the synopsis, friends:
Khai Diep has no feelings. Well, he feels irritation when people move his things or contentment when ledgers balance down to the penny, but not big, important emotions—like grief. And love. He thinks he's defective. His family knows better—that his autism means he just processes emotions differently. When he steadfastly avoids relationships, his mother takes matters into her own hands and returns to Vietnam to find him the perfect bride.

As a mixed-race girl living in the slums of Ho Chi Minh City, Esme Tran has always felt out of place. When the opportunity arises to come to America and meet a potential husband, she can't turn it down, thinking this could be the break her family needs. Seducing Khai, however, doesn't go as planned. Esme's lessons in love seem to be working…but only on herself. She's hopelessly smitten with a man who's convinced he can never return her affection.

With Esme's time in the United States dwindling, Khai is forced to understand he's been wrong all along. And there's more than one way to love.
Mental Health rep (Check), Multicultural romance (check), Own voices novel (Check). I am so READY for this to come out!
---
What am I most excited about reading this year? There's some stiff competition, but one of them has to be Wakenhyrst, by Michelle Paver.
I was a massive fan of Michelle's The Chronicles of Ancient Darkness series- it was literally my entire childhood, alongside Harry Potter. Who doesn't want a wolf for a companion?- so this book has already piqued my interest. However, this is definitely a more adult, intriguing read than her earlier novels. Instead, it's a dark, gothic ghost story that I'm raring to get stuck into.
The story itself is about the Stearne family, who live at the edge of Wakenhyrst village, in the Suffolk fens. Maud is a girl raised under her oppressive father, Edmund, who yearns to break free from his rule- but then Edmund discovers a ruined church painting on a walk through the village, and things start to change. Dark forces are stirring, menace is creeping into the house and Edmund becomes more and more obsessed by the painting, which he has named The Doom. All-too-soon, a great tragedy will unfold… the question is, who is going to suffer, and why?
I'm expecting really good things from this book. Michelle Paver's writing ability is second to none, and the premise is just so gloriously creepy and dark that I can already tell it's going to be a barnstormer. The release date is April 2019- which seems too far away. Bring it on!
---
The book I'm looking forward to the most this year is not only my most anticipated release of 2019, but my most anticipated release of ALL TIME: Chain of Gold of by Cassandra Clare! This is the first book in a new Shadowhunters Chronicles series called The Last Hours. It'll be set in Edwardian London and follow the children of the characters from The Infernal Devices. Saying specifically who those children are might be considered a spoiler so I will refrain from saying much else! But I cannot WAIT to read about them.
I'm super excited for this book because The Infernal Devices is my favourite series. I read it for the first time nearly 5 years ago and have been desperate for this sequel series since then! Knowing I'll get to read about some characters I already know and love, along with their children, makes me incredibly happy. Plus, it's pretty much a guarantee that any Shadowhunters series is going to be a favourite of mine – no matter what! These books are everything to me. They always have gripping storylines, wonderful writing, lovable characters, plenty of action, and excellent world building. I'm totally expecting Chain of Gold to have all of that and more!
Chain of Gold will be out on November 19th of this year! If you haven't already, I'd totally recommend reading The Infernal Devices before this book comes out. It's well worth the read and then you'll be ready for this new series coming out! I can't wait to finally get my hands on this book so I can dive back into one of my favourite stories.
---
My most anticipated 2019 release has to be The Tiger At Midnight by Swati Teerdhala. Firstly, it's a fantasy and while I'm an eclectic reader, I also have a special place in my heart for the fantasy genre. Secondly, it's a pot of gold in terms of representation for me. It incorporates Indian history so as an Indian, it would be a pleasure to read a setting or storyline somewhere in and around this country. Not only this, but it'll also be highlighting Hindu mythology and again, as a Hindu, I would love to see how the religion I believe in will be infused within this fantasy world that Swati will be developing.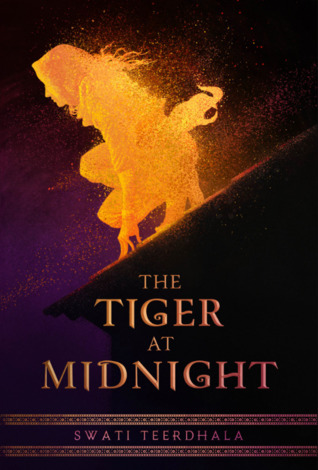 Lastly, the characters have these amazing Indian names–Esha and Kunal–and what more could I have asked for? In the publishing world where there's a rise of diversity but still a long way to go, it's nice to come across a book that's promising so much to a marginalized, brown reader like me. Apart from these great points, the fact that the female main character is an assassin is like a cherry on top. I'm always on the lookout for action-oriented female characters and I'm looking forward to Esha winning my heart in The Tiger At Midnight. 
---
And that brings this duology to a close! If I have missed your post for this duology, or if you would like to submit a featured post of any kind, just let me know either on Twitter or email me!
I have absolutely loved being able to do this and I'm so lucky the book blogging community is so awesome and supportive to want to do this! I want to thank the bloggers for their openness, hard work and, obviously, their participation and responses for part two, and for part one!
I hope you all enjoyed this! Until next time, happy reading!
All the love,
Allie
xx
---