Finally!, they exclaim. We've only been waiting for what seems like years!
I know, I know. I was just blown away by everyone's enthusiasm and I wanted it to be perfect! A few months ago, I took to Twitter to figure out what sort of blog post fellow book bloggers would be interested in doing as a sort of featured post. I'm happy to say that this is the final result! I want to thank all the book bloggers who took the time out of their busy days and wrote their wonderful responses! I was so interested to see the most anticipated releases for my fellow book blogging friends! And it was so awesome to see how different their responses were! My TBR pile is legitimately insurmountable now! Make sure to check out all these wonderful people on their blogs, Twitter and Instagram!
Let's get this show on the road! Oh, and FYI, these are in no particular order!
---
My most anticipated this book this year is Underland: A Deep Time Journey by Robert Macfarlane. Growing up in Derbyshire, UK with limestone territory with caves and subterranean springs running under my feet, I've always been intrigued by the dark world that lies beneath our own. So when I found out that one of my favourite non-fiction authors was compiling a series of essays on these unexplored territories, I bumped it straight to the top of my TBR.
In Underland, Robert Macfarlane takes us on a journey into the worlds beneath our feet. From the ice-blue depths of Greenland's glaciers, to the underground networks by which trees communicate, from Bronze Age burial chambers to the rock art of remote Arctic sea-caves, this is a deep-time voyage into the planet's past and future. Global in its geography, gripping in its voice and haunting in its implications, Underland is a work of huge range and power, and a remarkable new chapter in Macfarlane's long-term exploration of landscape and the human heart.
If you've not read Macfarlane's work before then I would recommend starting with The Old Ways: A Journey on Foot which is an account of his travels across ancient paths and sea-roads – mainly in Britain. His writing is lyrical and detailed with an emphasis on the human element, but despite a focus on nature, his earlier books don't particularly promote environmentalism. I'm expecting to find more of a message in Underland though. Macfarlane co-wrote an illustrated children's book called The Lost Words to celebrate the natural world in 2017 and frequently champions green issues via his Twitter account. Underland has been seven years in the making so I'm really excited to see whether he'll touch on conservation projects and which locations he'll cover, but either way, I'm sure his travels will inspire me both as an adventurer and as a fantasy writer. If you're interested in landscape, myth, history and exploration then this has to be on your 2019 reading list.
Blog: www.thebookfamilyrogerson.com
Instagram: @thebookfamilyrogerson
Twitter: @bookfamilyrog
---
Hey you guys, Ash here! Now — to get right down to it — my most anticipated book of 2019 is King of Scars by Leigh Bardugo! This novel is the first in the Nikolai Duology and it follows Nikolai Lantsov, the young King of Ravka, whom we met for the first time during the Shadow and Bone Trilogy. This book focuses on Nikolai's life after the Ravkan civil war, as he tries to keep his mess of a kingdom together and attempts to deal with what exactly happened during the civil war, while simultaneously trying to keep said events a secret. "But", as Bardugo says, "some secrets aren't meant to stay buried — and some wounds aren't meant to heal."
So — why is this my most anticipated read? Well, to talk about that, we're going to have to get a little sappy. Leigh Bardugo has been my favourite author since I read Six of Crows and I couldn't fathom how someone could write a group of characters this beautiful — in diversity, in vulnerability, in mystery, and so on. These characters are so unlike any others out there and I would've just read the novel solely for them (but the plot was pretty kickass too!). After this, I fell down a dark hole in which I didn't read anything but books written by Bardugo or anthologies she was featured on. This involved, of course, the Shadow and Bone Trilogy and that was when I met Nikolai for the first time. He was cunning, comedic, free-spirited and rebellious, but he was also caring and lovely. He could make the hard decisions but he always felt the repercussions of them. He's just, all around, a wonderful character. AND in Ruin and Rising, we were left with a tiny cliffhanger on just how Nikolai was doing and it killed me to no end (I just wanted my baby to be okay don't judge me).
Needless to say, when I found out this book was becoming a thing, I lost my shit. I've been dying to read it since it was announced and finally, the time has come!
I connect with every single character Bardugo has written and I began the "Nikolai Journey", if you will, during the Shadow and Bone Trilogy and I'm so so so excited to be able to continue that journey January 29th.
A huge shoutout goes to Allie for creating and developing this post! ALLIE: OMG ASH THANK YOU I READ THIS AND SMILED)I am so in love with the idea and I truly can't wait to read everyone's most anticipated reads for this new year. Happy reading everyone!
Blog Link: iinktrailss.wordpress.com
Goodreads: inktrails
Twitter: @iinktrailss
---
My most anticipated book release for this year has been listed as one for fans of Buffy the Vampire Slayer and V.E Schwab. I love both so naturally, I am very interested. It goes by the title The Bone Houses and is written by Emily Lloyd-Jones.
"Seventeen-year-old Aderyn ("Ryn") only cares about two things: her family, and her family's graveyard. And right now, both are in dire straits. Since the death of their parents, Ryn and her siblings have been scraping together a meager existence as gravediggers in the remote village of Colbren, which sits at the foot of a harsh and deadly mountain range that was once home to the fae. The problem with being a gravedigger in Colbren, though, is that the dead don't always stay dead.

The risen corpses are known as "bone houses," and legend says that they're the result of a decades-old curse. When Ellis, an apprentice mapmaker with a mysterious past, arrives in town, the bone houses attack with new ferocity. What is it about Ellis that draws them near? And more importantly, how can they be stopped for good?"
I am normally not a fan of zombie novels, as they can be a little cliché, but I love how the undead seem like a normal part of everyday life in the summary of this book. It sounds like a brilliant mixture of fantasy and horror, which are two of my favourite genres.
I also want to know how the undead became so common in this town in the first place and why the zombies are so interested in a map maker. Overall this book raises so many questions, and I just want the answers to them all. I can't wait for this one to come out.
Release date: The Bone Houses by Emily Lloyd-Jones is scheduled for release on September 24th 2019
Blog: https://crackyourspines.wordpress.com/
Twitter: @crackurspines
Facebook: https://www.facebook.com/Spine-Cracker-271963510282939/
GoodReads: Bernadette Donnelly
---
My most anticipated read of 2019 is We Hunt the Flame by Hafsah Faizal! As soon as I heard about it, I immediately added it to my TBR and have been counting down the days ever since! Last year I made a point of reading more books by Muslim authors or books featuring Muslim characters! Hafsah Faizal is an American Muslim who is so super talented (she is the founder of IceyDesigns!!! How cool is that?!)!
The book is about Zafira, who wants to protect her home from the growing darkness, Nasir, an assassin that takes care of anyone that defies the King, and how their paths cross in a magical and dangerous journey!
One thing that really caught my attention about the book (other than the gorgeous title and cover) was that it was a fantasy novel in which the setting was based on Arabia! I was immediately head over heels in love with the idea! Also, this book features one of my favourite tropes ever (enemies to lovers!) and some very intriguing characters! I also really appreciated the fact that even though she could have made the characters Muslim, she decided not to mix religion within the landscape of magic. It was something she could have chosen to do anyway, but it's really nice seeing an author stand up for what she believes in while still being a passionate and creative writer!
It also features beautiful quotes like "Heart of my Heart. Moon of my Soul." and "Be as Victorious as the name I have given you and bring the desert to its knees."
Goodreads: https://www.goodreads.com/book/show/36492488-we-hunt-the-flame
Website (for preorder and more info): https://www.hafsahfaizal.com/books/we-hunt-the-flame
My Blog: https://starisallbookedup.wordpress.com/
My Insta: https://www.instagram.com/stars.brite/
Follow the author:
Instagram: https://www.instagram.com/hafsahfaizal/
Twitter: https://twitter.com/hafsahfaizal
---
There are so many good books coming out this year, especially a load of anticipated sequels, that I found it so hard to decide on one of my most anticipated to talk about in this blog post. However, in the end, I decided that I must talk about Kingsbane by Claire Legrand. This is the second book in the Empirium trilogy following on from Furyborn, a book that took the ya world by storm last year, and for good reason. I read the first book in this series at the end of 2017 after getting an ARC copy in a subscription box. I was instantly drawn in and obsessed over the story, devouring the 491 page book.
As soon as I finished it I needed the sequel and soon I will have it! Claire Legrand has quickly become one of my favourite authors since reading Furyborn along with her newest book, Sawkill Girls, last year. I am so excited for Kingsbane since I know it is going to be just as entertaining and enthralling to read as well as being ruthless and gripping. It's a sequel that I am highly anticipating and I know that I'm going to fly through it as soon as I get my hands on it.
Blog: abookishweekend.com
Twitter: @bookishweekend
YouTube: abookishweekend
---
This was so hard, my pre-orders for 2019 are getting way out of hand. But my MOST anticipated release is Soul Of Stars by Ashley Poston (UK release date: 23/07/2019) which is the sequel to Heart Of Iron.
If there is one thing I love more than fantasy, its Sci-Fi and this book brings the best of both worlds, with space pirates and intergalactic royalty, the cheesiest romances that make your heart soar and break and friendships that bloom in the face of adversity. Heart Of Iron was a 5 star read for me. I NEED the next book, the cliffhanger was painful.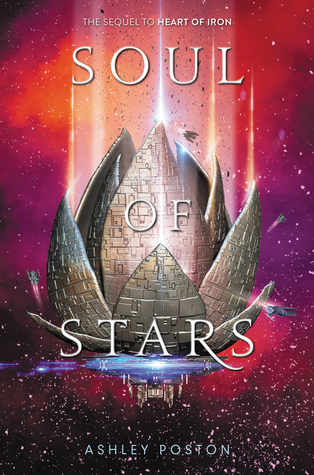 I wanted Heart Of Iron since seeing the Owlcrate exclusive cover and sprayed edges (I judged this book, 100% on its cover and beauty), but alas I waited until November to read it and I was so happy with what I read! The easiest way to describe Heart Of Iron is Anastasia meets Firefly. We follow several POVs in Heart Of Iron, namely Ana and D09 who are crew members of the Dossier after the captain had found them both floating in space. Ana has no memory of her life before being found by her Captain and D09, as an Android, is starting to deteriorate. We also follow the smart, sharp-witted pilot of the Dossier, Jax and a caught-in-the-cross-fire noble, called Robb. We follow them and the expanding crew of the Dossier's adventures into the next book Soul Of Stars. I would hate to spoilt it for you lovelies, so I'm gonna stop here.
I would recommend this for anyone who likes… Firefly, The Lunar Chronicles, lost princesses and forbidden romances. Thank you very much to Allie for hosting us in this blog and for giving us somewhere to shout about our fandoms (ALLIE: OMG THANK YOU *BLUSHES*)
Come find me at Instagram, Twitter, Goodreads.
---
Hello Lovelies! Adriana Gabrielle here!

It was SO hard to choose my most anticipated book release for 2019 but after some contemplation and debate with myself, I have finally chosen one. My most anticipated release of 2019 would have to be Finale by Stephanie Garber.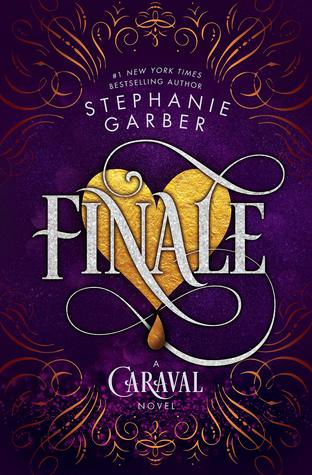 Finale is the third, and final, book in the Caraval Series and I'm desperately needing this book in my hands now. The Caraval series is just full of these amazing and well-written characters who know how to kick-butt, and most importantly, STRONG INDEPENDENT WOMEN WHO DON'T NEED NO MEN (but they want men anyways which is totally chill). I'm obsessed with Stephanie Garber's world she created and can't wait for Finale but I am also sad as it will be the end of the series.
Blog: www.adrianagabriellewrites.wordpress.com
Instagram: www.instagram.com/thelibrarianfiles
Twitter: www.twitter.com/librarianfiles
Goodreads: https://www.goodreads.com/user/show/17694731-adriana-gabrielle
---
Always Never Yours by writing duo, Emily Wibberley and Austin Siegemund-Broka, was one of my favourite reads of 2018. Aside from being a super cute couple in real life, this duo got me swooning over their characters. A part of me was starting to think that I was "too old" and "too jaded" to read anymore YA contemporary, but this book changed my mind in the best way. Their sophomore novel, If I Am Being Honest, is set in Los Angeles and focuses on a 'mean girl' who is trying to "tame herself" a la Shakespeare's Taming of the Shrew. I don't know much else about this, which is exactly how I like my contemporary novels. It releases on April 23, 2019 and I have already pre-ordered it!
Goodreads Link: https://www.goodreads.com/book/show/40087230-if-i-m-being-honest?from_search=true
Instagram: @treereads
Twitter: @Treeonahill_
WordPress: Words About Words
---
A powerful society protecting ancient secrets, a group of outcasts hunting for treasures and a wealthy hotelier seeking to reclaim his true inheritance – The Gilded Wolves will take readers on an adventure ride through the dark and dangerous underbelly of glamorous Paris.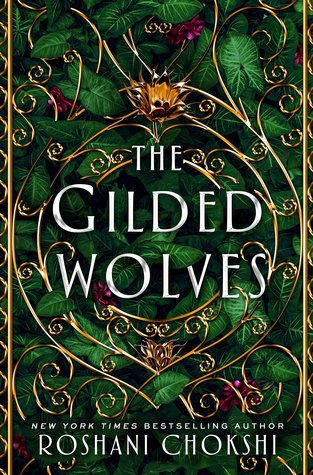 I've been looking forward to Roshani Chokshi's The Gilded Wolves since I found out about it early last year. It features a diverse cast, including a half Filipino character. The whole found-family and treasure hunting promise of this book are additional incentives for me because I love books featuring those elements.
Blog | Twitter | Facebook | Tumblr
---
How do you kill a God? The blurb alone made me request an ARC of this book. Warrior of the Wild by Tricia Levenseller is about Rasmira, an 18-year old young woman who has trained her whole life to become a warrior in order to lead her village. But then she failed her trial and her father banished her to the monster-filled wilderness with an impossible quest: to kill the god who claims tribute from the villages. She must do it to win back her honour.
It's a Viking-inspired premise, with a badass protagonist and a mysterious god who claims tribute from villages: I'm so in. I exist for all these badass stuff in books. I also read that there will be romance even though it wasn't hinted in the description. I'm hoping that the love interest is the god who she's supposed to kill. This is one of my favourite tropes: I must kill you but I'm falling hopelessly in love you. It really feels like I've been waiting my whole life for this novel. I also have no worries about this author's writing because I absolutely loved her previous duology, Daughter of Pirate King. Thankfully, though, Warrior of the Wild is a standalone novel! I love series but I love a book so much more when it doesn't make me wait for the sequel! I really hate waiting. So yeah, this book, indeed, has everything I could ever ask for in a young adult fantasy novel. Hopefully, I get an ARC though.
FB Page: https://web.facebook.com/lilikmarcus/
Twitter: https://twitter.com/marcus_lili
Blog: https://lilisblissfulpages.wordpress.com/
Goodreads: https://www.goodreads.com/user/show/58341705-lili-marcus
---
How amazing are these responses? And they're all different! It really truly was fascinating to read. If you've read the title, you know that this is the first post in this duology! I call it a duology because I can. I'll be posting the second blogger responses tomorrow! So be sure to check it out!
What are your most anticipated releases? Let us all know in the comments!
Until tomorrow! Happy reading!
All the love,
Allie
xx
---