Dr. Anne Brown speaks passionately about being your authentic self and learning to empower yourself through being able to say no.
---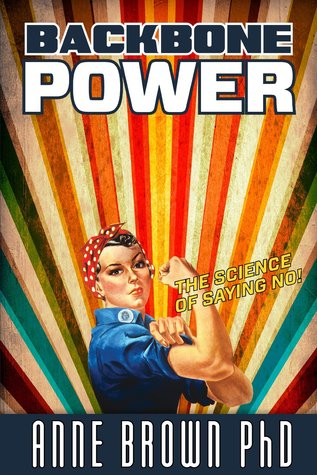 A few years ago, Dr. Anne Brown authored the book Backbone Power: The Science of Saying No, and she is now coming out with an abridged audiobook version for busy people on the go. I found it to be quite powerful and extremely relatable. But before I go into my review, I'll just leave a synopsis of Backbone Power, also available on Goodreads:
Dedicated Too
Everyone or anyone that has been in the position to say no, and wanted to, but didn't. Being in control of our actions and decisions, helps us live healthier and happier lives. WE DESERVE IT!! Anne believes her book will mentor those who suffer the doom of constantly saying "yes" to everyone else, while saying "no" to their own opportunities.

Backbone Power was written to help everyone from mothers, to college grads, to people that have to make hard choices between family and work. Anne Browns professional experience and her no-nonsense approach can enable you to make decisions for yourself that will help you be successful. Regardless of Co-Dependency, Family Issues, Addictions, Emotional Stress, anxiety, or other issues. Find out how and why making choices for yourself can make you happy. Take this opportunity to read about real life experiences with Anne to help you devote your choices to yourself. SAY NO to choices that aren't in your best interest and become more Successful.
---
My thoughts
My 'people pleasing' tendencies originate mainly from my anxiety, so listening to this book was actually quite interesting in the sense that it made me critically reflect upon myself and enabled me a deep introspection on how I go about interacting with people in my everyday life.
At the core of this audiobook concerns happiness and how about we find and understand out happiness by understanding how we make choices. It's also about learning how to recognise your own boundaries, in order to know when you can honestly tell yourself when that line has been crossed and to give yourself some time out. Dr. Brown provides indelible advice that is grounded in the practical. I find it frustrating when self-help books tell you all the things you should be doing but don't actually tell you how to actually make it a reality in your every-day life. This audiobook is the opposite.
Obviously, I am only speaking about the audiobook, but since the audiobook is an abridged version of the book itself, I believe that my review may also be applied.
What I found really helpful, and honestly what made me recognise some aspects of my own personality, were the examples Dr. Brown provided. These examples showed how easy it can be for people such as people-pleases (like me) react in conversations, or how they 'confront' issues to ensure the other person isn't 'offended'. I never realised to the extent at which we literally curb the conversation to ensure that the other person's feelings are the priority? Even though in these instances, it's usually our feelings which are hurt/offended but we are bending over backwards for the other person.
This is the point at which Dr. Brown emphasises that you, and only you, can then say to yourself that enough is enough. Learn to acknowledge and embrace your emotions, and take time for yourself. As Dr. Brown emphasises, it's about finding a balance in order to live as your authentic self.
In saying that though, I do admit that at times it did seem repetitive, although it was important advice. And in regards to the audiobook version I listened to (which most likely is not the finished copy), the reader could tell when the audio was edited because it would stop and then start again, at times a barely noticeable pause and others, quite a significant pause. I could also hear the pages of a book turning in the background. I also would like to point out that since I thoroughly enjoyed the examples Dr. Brown provided, I wish there was more of those in the sense that I wish that the examples were more thoroughly discussed; but, I understand that this is the abridged version of the original book, but that would have been a great addition to the audiobook.
In saying all of that, I would give the audiobook of Backbone Power: The Science of Saying No by Dr. Anne Brown, a solid 4 out of 5 stars. I would highly recommend this audiobook, as well as the physical original version, to readers who would want to really begin a journey of reflection, recognition and practice of emotional self-awareness as well as the limits of ourselves in order to find balance and happiness. Dr. Brown's words are emphatic and moving, and I thoroughly enjoyed my experience listening to it.
That's it for today, friends! Until next time, happy reading!
All the love,
Allie
xx
---
Social media info for author and book:
Twitter: @scienceofno
IG: @annebrown2013
FB: @developingyourbackbone
I would like to thank the author, Dr. Anne Brown and her assistant Joan, for giving me a free copy of the audiobook in exchange for an honest and unbiased review.